Web Hosting Plans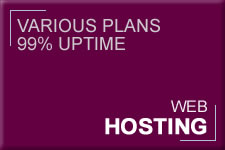 As you may know, an owner of a website needs someplace to host the website so it is available to be seen by the world. Your website is hosted on a server and when a user enters in your domain name into a web browser, that server responds and the browser displays your website according to code. To have your website visible to the world, a connection is needed to the web server to upload your website. This is usually done via File Transfer Protocol (FTP) or a web interface within the hosting package. Either way can get your files uploaded to the server ready to be viewed by the public.
While there are various types of hosting solutions for you, we recommend choosing a hosting company that is right for you. There are many hosting companies that offer many services that you may never need or use and you end up paying for them. On the flip side, there are other hosting companies that offer very little and you may need additional services.
With so many choices out there for web hosting, We have numerous web hosting plans available. All of our plans are reasonably priced. We hope we can be your solution for your web hosting needs.
Our pricing is very reasonable and we suggest you contact us for a quote that is specific to your needs.